Liver Fibrosis Scan
We are able to provide this service on-site at Bayside Day Procedure & Specialist Centre with our imaging partner Advanced Radiology.
Once you have read this important information and would like to have a Liver Fibrosis Scan, you will need to follow this procedure:
Step 1. Print Referral Form and take it to your Doctor
Step 2. Call us on 9781 0144 to make an appointment for Liver Fibrosis Scan
Liver disease is an important problem in Australia.
Accurately diagnosing liver fibrosis (scarring) and inflammatory activity are the most important factors for determining the stage of the disease, assessing the patient's prognosis, and predicting treatment responses. This is true for a wide range of diseases, including viral Hepatitis B and C, Fatty Liver Disease, Drug-Induced and Alcohol Liver Injury, Primary Biliary Cirrhosis, and Autoimmune Hepatitis.
Liver Fibrosis Scan (ultrasound-based elastography) provides non-invasive and painless approach for assessing Fibrosis in liver disease.
The use of non-invasive tests to stage the severity of liver disease (ie. scarring) is now well established in the management of patients with chronic liver disease.
This is because assessment of liver scarring provides prognostic information and assists in establishing treatment priorities. One such technique, shear-wave elastography, is a simple, safe and efficient way to estimate liver scarring.
When performed in the appropriate clinical setting, elastography provides a reliable method of detecting cirrhosis and excluding significant fibrosis, particularly when the results are supported by clinical and laboratory data.
How is the test performed?
With the patient lying supine, an ultrasound probe is placed on the skin over the liver area, typically in the right mid-axillary line.
Typically the test takes around 10 minutes to perform and causes no patient discomfort. In general, patients should have fasted for at least 2 hours before the procedure.

The principle behind shear wave elastography
Shear waves are generated inside the human body by means of an ultrasonic wave. Depending on tissue stiffness, shear waves travel at varying speed, but generally very slowly through the human body. Their propagation can be followed and visualized using conventional ultrasound imaging techniques. The propagation speed of the shear waves directly correlates with tissue stiffness, which is in turn related to the degree of fibrosis.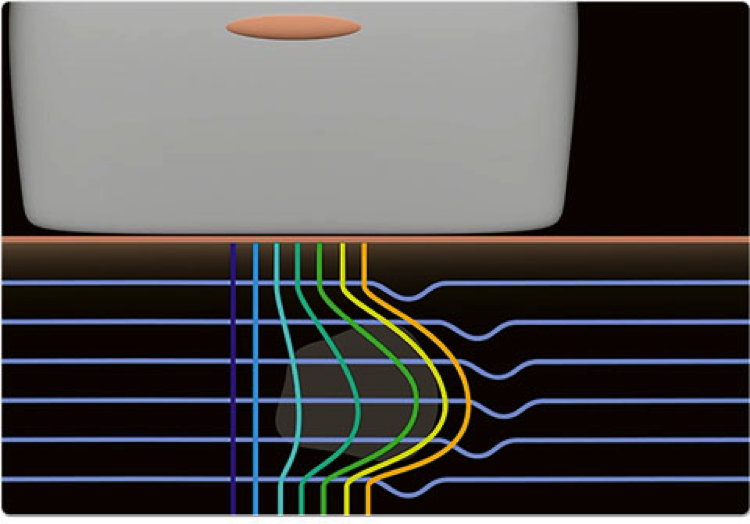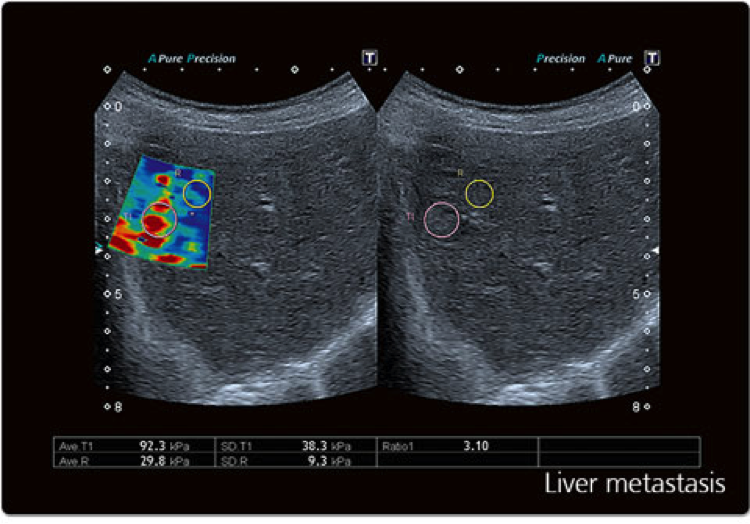 What are the indications for this test?
Fibrosis Scan is principally used to estimate the degree of liver scarring present (ie. stage of liver disease). This is very useful in the assessment of patients with chronic liver disease, including chronic hepatitis C, chronic hepatitis B, fatty liver disease and chronic alcohol abuse. The concept is that as more fibrosis and scarring occur, the higher the liver stiffness reading will be. This reading may be used to:
estimate the existing degree of liver damage
monitor disease progression or improvement via serial measurements
guide prognosis and further management, including treatment.
Before a patient can undertake Fibrosis Scan, they must get a referral from a General Practitioner or family doctor, who will decide whether this is appropriate.
Once you have read this important information and would like to have a Liver Fibrosis Scan, you will need to follow this procedure:
Step 1. Print Referral Form and take it to your Doctor
Step 2. Call us on 9781 0144 to make an appointment for Liver Fibrosis Scan