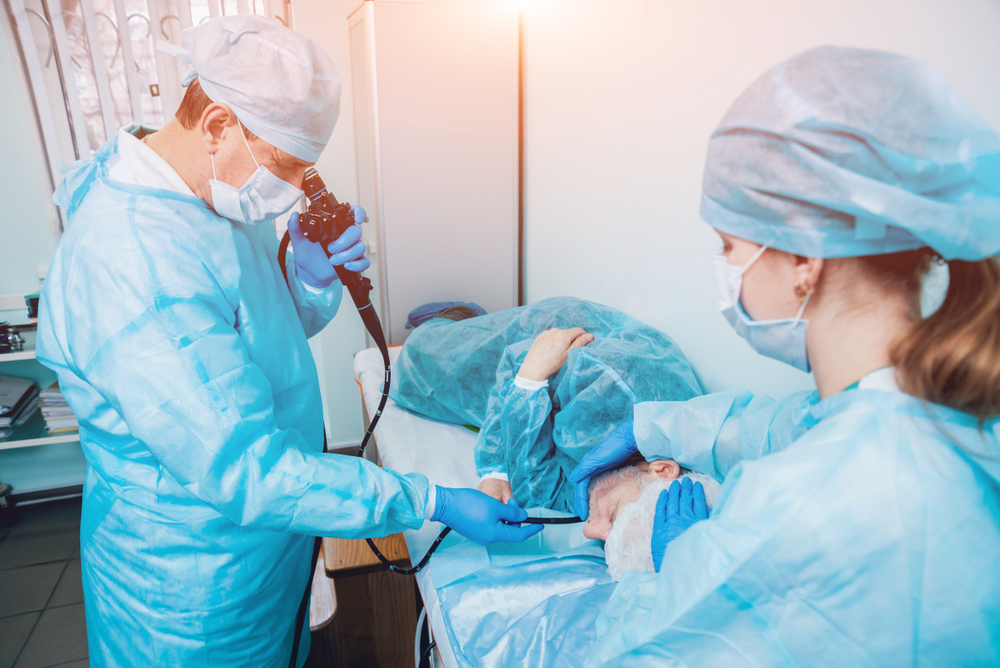 5 Gastroscopy Melbourne Clinics With Over 20 Years Experience
Your Direct Endoscopy Melbourne gastroscopy is a simple test that allows our doctors to view inside your oesophagus, stomach, and small intestine.
After a light anaesthetic is given, a small camera inserted through the mouth with images viewed on a video screen – a far more accurate method than x-ray for detecting inflammation, ulcers, or early cancer.
Symptoms & Conditions Investigated By Gastroscopy
During gastroscopy, the doctor may also take a biopsy (a small piece of tissue) for testing or treat certain conditions such as stomach ulcers. Some of the symptoms and conditions that may be investigated by you gastroscopy Melbourne include:
Persistent abdominal pain
Difficulty swallowing (dysphagia)
Chest pain that isn't caused by heart-related conditions
Investigation of symptoms such as nausea, vomiting, and unexplained weight loss
Gastrointestinal bleeding
Stomach ulcers
Barrett's oesophagus
Cancer of the oesophagus, stomach or duodenum.
It's important to note, that other tests and diagnostic procedures may be necessary to fully evaluate and diagnose these symptoms and conditions. Please speak to your doctor or contact us for more information.
Conditions Treated With Gastroscopy
Stomach ulcers and polyps are some of the most conditions that can be detected and/or treated at a Melbourne gastroscopy clinic, as well as gastritis (inflammation of the stomach lining), Gastroesophageal reflux disease (GERD), hiatal hernia, and tumours in the upper digestive tract.
---
Gastroscopy Procedure Melbourne
You will be asleep for a short period of time and will not be aware of the procedure. A safe and precise way of investigating the upper gastro-intestinal tract, Gastroscopy is also used to treat certain conditions, preventing the need for surgery. Strictures (narrowing) can be stretched, polyps can be removed, bleeding lesions can be stopped or prevented, and biopsies can be obtained if a tumour or infection is suspected.
---
Melbourne Gastroscopy Preparation
To ensure the safe and effective practice of Gastroscopy, specific preparation of your digestive system is required. If you've booked with Direct Endoscopy, please click on the link below and carefully read the preparation information.
---
Gastroscopy Doctor Melbourne
A gastroscopy doctor is known as a gastroenterologist, who is a specialist in gastrointestinal health and has received special training in gastroscopy. Your Melbourne gastroscopy doctor will examine your upper digestive tract, by inserting a thin, flexible tube through the mouth called an endoscope.
---
Gastroscopy Clinic Melbourne
Direct Endoscopy – gastroscopy clinic Melbourne are one of the largest providers of endoscopy, colonoscopy, gastroscopy services in Victoria with five gastroenterology clinics across Melbourne we use the latest equipment and have professional, highly qualified staff who aim to make your experience as comfortable as possible. We provide state of the art facilities designed for your comfort and privacy. For more general information about gastroscopies visit health direct.

Latest posts by Dr David Badov
(see all)
Frequently Asked Questions
What is a gastroscopy?
A gastroscopy is an examination of the upper digestive tract that is performed at a day hospital. This procedure allows doctors to observe and inspect the insides of your oesophagus, stomach, and the first part of your small intestine (duodenum) for any abnormalities. Gastroscopies also enable doctors to obtain tissue samples or a biopsy, which is later tested in a laboratory to determine the presence of things such as infections, cancers, and other health issues.
What does a gastroscopy look for?
Gastroscopy is used to investigate the causes of symptoms such as difficulty swallowing, abdominal pain, heartburn, suspected ulcers, nausea, vomiting, iron deficiency and others. During a gastroscopy, your doctor will observe the inside of your upper digestive tract for any signs of abnormalities. In many cases, a tissue sample (biopsy) is taken during a gastroscopy for further testing in a laboratory. This can determine whether you have infections, diagnose abnormal tissue growth, and confirm conditions such as coeliac disease and cancer.
What can be found in a gastroscopy?
Gastroscopy is used to find abnormalities in your esophagus, stomach and upper part of your small intestine (duodenum). This can include anything from inflammation, reflux oesophagitis, gastric and duodenal ulcers, coeliac disease, cancers, Barrett's oesophagus and others.
What should I expect with a gastroscopy?
With a gastroscopy, you should expect to undergo a period of fasting prior to the procedure. The exact details on how to prepare for your gastroscopy will be provided by your doctor upon making your gastroscopy appointment.
In a gastroscopy procedure, you will be instructed to lie down on your side and be administered anaesthetic in the form of a sedative injection so you won't feel any pain. You may also occasionally have numbing spray applied in your throat and a mouthpiece to keep your mouth open during the gastroscopy.
Your doctor will then insert a thin, flexible tube with a tiny camera attached to the end (known as an endoscope) into your mouth, down your esophagus, stomach and into the first part of the small intestine (duodenum). This camera will transmit images onto a video monitor, which your doctor will observe to carry out the gastroscopy. Your doctor will observe any abnormalities and may need to take tissue samples for Helicobacter or any observed abnormalities.
A gastroscopy can last anywhere from 10 to 30 minutes but can be longer if additional procedures are needed such as taking tissue samples (biopsies).
Because of the anaesthetic, you will initially feel drowsy and should not be driving for the next 24 hours. This is why it is recommended to have someone accompany you to your gastroscopy and take you home after it is finished.
How long do I have to fast before a gastroscopy?
As a guideline, if your gastroscopy is in the morning, you shouldn't eat or drink anything after midnight before your procedure.
If your gastroscopy is later in the afternoon, it is required that you don't eat anything 6 hours before your procedure, and don't drink anything 2-3 hours before your procedure.
However, your doctor will provide you with the exact and more detailed information about your fasting requirements before your gastroscopy procedure.