Our Blog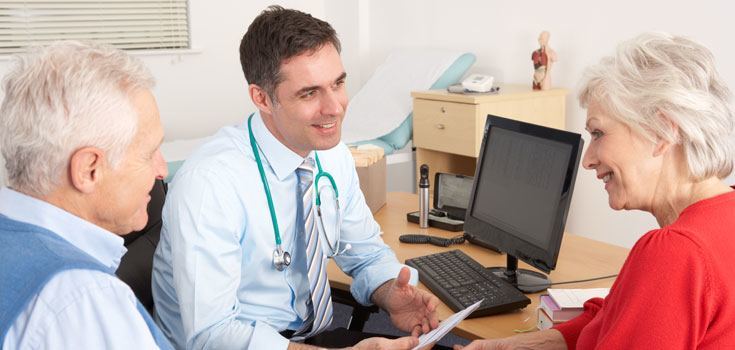 Health worker Elise Nichols' life changed in September last year when her doctor left a message on her phone asking her to go to his surgery that day. She feared the news was not going to be good, and that it was about the colonoscopy bowel screening test she had undergone a few days before to check out some stomach pain she had been experiencing off and on. As a health professional, Elise was well aware that screening was an effective bowel cancer prevention, but she had no other symptoms apart from some mild bloating; she had no blood in her stool or a family history of bowel cancer or polyps. Lucky for her, she trusted her gut feeling (an apt description) that was telling her something was definitely wrong and she needed to have a bowel screening test.
What is Bowel Cancer Screening?
Discovering bowel cancer or precancerous polyps and conditions early is very effective as a way to prevent bowel cancer and to reduce mortality and morbidity rates in sufferers. Population-based bowel screening is recommended for only three cancers in Australia, and bowel cancer is one of them. The others are cervical and breast cancers. The National Bowel Cancer Screening Program (NBCSP) is a population-based strategy using a kit mailed to people so they can do an easy home test for blood in the stool. Other bowel screening tools which can follow a positive faecal blood sample gained from the NBCSP include a sigmoidoscopy, which examines the lower colon, and a colonoscopy which examines the entire length of the large bowel. There is also DNA biomarker testing, using plasma (blood) or faecal DNA samples, but this is new and has not been evaluated for population bowel cancer screening.

The Doctor Recommends a Colonoscopy
Elise's doctor acted when she told him of her symptoms, referring her for the colonoscopy bowel cancer screening test that saved her life. He reminded her that bowel cancer was hard to diagnose, especially in the early stages, because it could imitate other problems such as food intolerances, and irritable bowel syndrome. He said testing was crucial to prevent bowel cancer from developing. As a healthcare professional, Elise knew this all too well, but surely this only happened to patients, not her? Sadly, no.

During her colonoscopy bowel screening, the surgeon removed two small polyps, little growths of tissue that form on the bowel wall and are usually harmless, but can become cancerous. That's why the removal of these polyps is vital in bowel cancer prevention. One polyp raised the surgeon's concern, and it proved to be the beginning of Elise's new life as a wife and mother of three little girls, a daughter, friend, and health worker who had ignored her own health and now had bowel cancer.
---
Direct Endoscopy has been providing quality screening colonoscopies to prevent bowel cancer, endoscopy services, and specialist treatment in the area of digestive health for over 20 years.
Today, Direct Endoscopy is one of the largest providers of these services in Victoria, with four Day Hospitals in the Melbourne metropolitan area.
---
The Bowel Screening Test Results
When Elise returned to her doctor for the results of the bowel screening colonoscopy, she clearly heard what he said, but the words seemed to hang in the air, and she couldn't take them in. Time seemed to stop, and she looked over at her two little girls playing with their new teddy bears on the floor. The five-year-old was at school, and with nobody to look after them, the other two had to come with her or wait for Joel to finish work. She really didn't want to worry Joel anyway. As the doctor was talking, Elise felt surreal. Her whole body felt strange. 'Your bowel cancer test result is positive', he was saying. She said, 'For what?' He said: 'Bowel cancer, I'm afraid.'

The doctor calmly explained that Elise urgently needed an operation. 'What about the girls, I have three,' she whispered in a cracking voice. She felt the doctor's empathy as he reassured her that many people survived bowel cancer surgery, and the surgeons were highly trained and experienced. He asked if her husband was supportive, and reminded her that she was young and relatively healthy, and it was now time for her to think about herself. She would need more blood tests, tumour markers and a CT scan to check for metastasis (when the bowel cancer spreads to other parts of the body) and he stressed that she had to make sure she had help at home during her recovery from her bowel cancer operation.

Leaving the doctor's rooms, Elsie remembered how she had procrastinated about the colonoscopy bowel cancer screening test and how it had taken her so long; about seven weeks to have it done because her life was so busy. She knew full well that testing was so important to prevent bowel cancer. She wished she had done it earlier, and couldn't believe she had waited. The words testing prevents bowel cancer kept ringing in her head, but she had been so busy. Elise then realised she was also too busy to have bowel cancer, and if she had acted sooner, things might have been different. She also knew she would work hard to get the message across to other younger women that testing prevents bowel cancer and saves lives.

It was too late now for recriminations. Elise knew she had to get herself into gear for her operation. But how the hell was she going to tell Joel? She didn't know how bad it was, so maybe she should wait until the bowel cancer tests came back. Her mother and father? When would be a good time? There was no best time, but she would wait until after her parents' anniversary dinner on Saturday, if she could hold out that long. She felt like running to her mother in tears, holding Joel and the girls in a big group hug.

The Bowel Cancer Surgeon's Visit
Elise and Joel sat in the surgeon's consulting room and listened as he carefully explained that the bowel cancer test results meant she needed a left hemicolectomy, which meant a large part of the bowel had to be removed. He said it was a big operation; he wouldn't know how severe the bowel cancer was for about five days after the surgery because lab tests had to be done on the lymph nodes, and she would be in the hospital for a week. Elise would also need someone to be with her at home for two weeks after she was discharged from the hospital, especially since she had three children.

The surgeon also explained the risks, which involved the possible need for a colostomy bag (Elise was well aware of what they were, but it turned out she didn't need one), and also the risk of dying, as with any major operation. Joel was a pillar of strength for Elise during that appointment, and all through her bowel cancer ordeal. He held her hand and comforted her when she cried while listening to the surgeon who was saying it was essential to have a calm loved one with her at these times, rather than facing it alone and being staunchly independent. 'You really don't have to do it alone,' he said. 'So ask for support.'

She was an optimist, but now Elise questioned everything about her life and felt a dark cloud forming over her future. Then she thought maybe that was just her way of deciding that she was up for the challenge. No matter what, she had to do everything possible to get through the bowel cancer operation and get well again for herself, Joel and the girls.

---
Colonoscopies and other bowel screening tests and procedures are bowel cancer prevention tools used by our team of specialist gastroenterologists.
We're committed to providing the highest quality of bowel screening colonoscopy and endoscopy expertise to prevent cancer.
---
Dealing With the Bowel Cancer Diagnosis
Elise had been a bit shaken when the surgeon had told her he wouldn't have her prognosis for five or more days after the bowel cancer surgery. He had said the two-week wait time for the bowel cancer operation was not a problem, since she hadn't fully taken in what was happening to her yet. No wonder, it had only been a couple of days since the shock news. She remembered her doctor had said that no matter what people see on television, or how their friends or relatives reacted when they received bad news, everyone responded differently to facts that caused them to confront their possible death. 'Knowing how someone else reacted won't help you to prepare for your experience, so it's best not to compare', he said.

Elise searched the web for everything she could find about bowel cancer and read that what governs a person's reaction to their bowel cancer diagnosis and surgery is their general health, both physical and psychological; their age, any stress, their job and finances, and their responsibilities to family and friends. 'Your ongoing support group will play a major role in the way you respond, from your diagnosis through the bowel cancer screening, diagnosis, the surgery and beyond. So you must make sure you have a group of strong people to help you along the way.'
Anguish, Anxiety, Guilt and Fear Descends
Even though she read that her reaction was normal, what disturbed Elise the most was the guilt she felt about being a worry to her family and friends and the way her mind raced ahead, trying to construct a positive outcome to her bowel cancer surgery. Then her mind would reverse the story and go all negative, worrying about dying, having a colostomy bag, being unattractive to Jeol and concern about leaving him with the responsibility of bringing up the girls alone. Then: 'What if the bowel cancer is terminal? Is there enough in my Super to pay off the mortgage? How would the girls cope if I died? Why didn't I get tested earlier – it could have prevented my cancer!'
Her doctor had told her to call her friends and relatives and rally support from wherever she could. And so Elise got even busier, cooking, shopping in bulk, finding out what government support agencies were available to her, and setting up bill payments to occur automatically online. She organised house cleaning, and gardening, and made sure her childcare centre would give the girls some extra tender lovin' care and her teacher would be kind to her eldest since their mother was having a major operation to remove a bowel cancer.

Elise's New Bowel Cancer Life
For about a week, Elise woke every morning with nothing worrying her for a few seconds until she remembered her new bowel cancer reality. At first, she would hear the birds outside, and everything seemed normal, but then the stark reality would hit, and her heart would sink. Elise had been thrust into a pre-bowel cancer life and a post-bowel cancer life. She realised this when a friend who had been through the breast cancer mill told her the fear and anxiety eased after a while, but that she will always be a bowel cancer patient.
Elise knew she would be left with a scar from the surgery, her digestive system would be different, and in her mind, there would always be the fear of bowel cancer tucked away. Yet, she also knew her life would be different with less stress, and more relaxation. She now knew there were more important things in life than work, and bills and she was proud of her new-found resilience. Hadn't her strong mother's body produced three beautiful girls? Elise began to call on that strength in her post-bowel cancer life after the successful operation.
If you have any symptoms you think might be bowel cancer or any of the other conditions such as Crohn's's Disease, diverticulitis, or irritable bowel disease, don't delay in seeking medical advice and having a bowel screening test. To help prevent bowel cancer, a good diet, fibre and exercise, and early screening if you have symptoms is recommended. Bowel cancer screening could save your life, just as it saved Elise's. At Direct Endoscopy in Melbourne, there are no wait times, so follow these simple steps:
---
References:

Latest posts by Dr David Badov
(see all)